Saturday, July 07, 2007
hey darlings,
i'm currently located at Melbourne and will be taking a break from cream-indulge until i've settled in. i'll update as soon as i can! :)
love,
jamie
Friday, June 29, 2007
Thursday, June 14, 2007
Monday, June 11, 2007
Wednesday, May 23, 2007
Saturday, May 19, 2007
Sunday, May 06, 2007
Claire - an earring affair
It's the first update after a really long time because I simply lost the drive and inspiration to bead anymore. Ironically, the horrible situation at work has forced me to go back to beading to seek solace and comfort in my creations. And so here I am, with 11 new pairs of earrings. I named this collection Claire because of how ethereal and delicate the earrings generally are. And it's the only way they're linked. Claire, to me, is very princess-like, elegant and sweet in every way. Enjoy :)
Email me at cream.indulge@gmail.com should you find anything you like.
This pair is made up of yellow clay roses and semi precious stones. Do note that due to the nature of semi precious stones, the swirls/patterns in the beads are not uniform. It's beauty lies in the simplicity of the combination.
Made up of the same semi precious stones used in Claire I, coupled with rhodium plated rings and big, elegant white beads, this pair is suitable for the beach, work or club.
This pair is made up of purple clay beads, rhodium plated rings and a variety of Swarovski crystals. It reminds me of everything royal and elegant.
This pair is made up of stunning green briolettes, rhodium plated rings and various beads. This is a personal favourite :)
White-based tensha beads and maroon teardrops make this pair slightly oriental and glamourous still.
This pair is made of 24k gold plated angel charms and ribbon frame, together with pink Swarovski crystals.
Blue clay beads, Swarovski crystals, plastic beads and silver rings make this pair very dreamy. Match it with a long white dress and you're set for the seaside.
This pair is made of white based tensha beads and red paper roses. I sold something similar last X'mas and decided to remake something similar just because it's so pretty.
Purple clay roses couple with clear teardrops make this combination very ladylike. I had to resist the temptation to keep this pair of myself haha.
This pair is made up of pink jade beads, rhodium plated rings and faceted jet black beads. I really love the carvings on the jade, of which I wasn't able to catch on camera. I was reserving these jade beads for later because I couldn't seem to find inspiration to match it well enough. Tell me whether I did a good job now that it's done :)
I haven't come across a ballerina charm as pretty as this. It's 3D all round and extremely pretty. I matched it with pearls (the shape's oh-so unique isn't it) and blue glass beads. The glass beads took me forever to pick out - I was very particular about finding a pair of beads that were of similar size with pretty enough gold swirls in them. Because of the nature of the beads, no two beads are identical.
Friday, April 06, 2007
cream-indulge is having a promotion. check out the slashed prices. i'm clearing old stock to make way for new ones. email me if you're interested in anything and i might be in a good mood to throw in free postage :))
purchase anything from
Mazqueradee
to have greater bargaining power haha.
love,
jamie :)
Monday, March 26, 2007
Mazqueradee
is cream-indulge's new sister site!
it won't kill to visit ya? :)
click on the banner to be relinked there.
Friday, February 09, 2007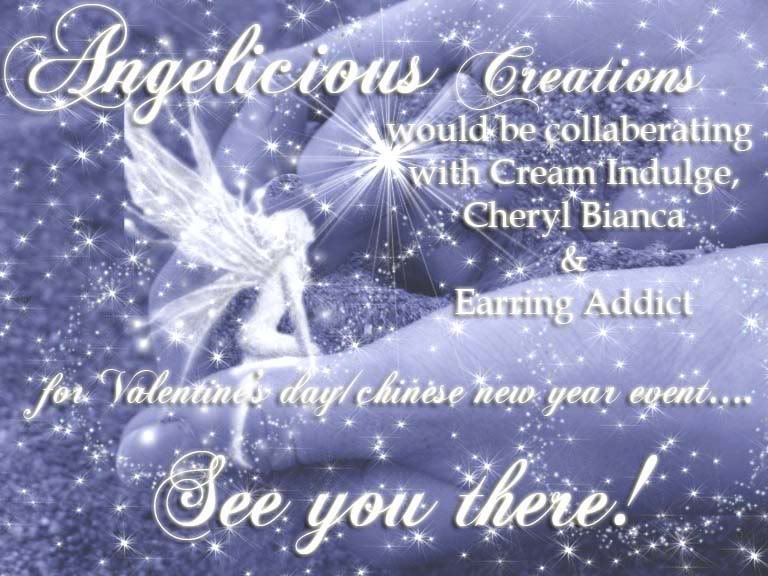 (click on image to enlarge)
image credit to jacq from
Angelicious Creations
.
Orchard Cineleisure basement 1
9 - 15 February 2007
cream-indulge's second bazaar at the same place but with new partners this time round.
collaboration between
cream-indulge
,
Angelicious Creations
,
Cheryl Bianca
and
Earring Addict
.